Well it's that time of the year again, the holidays have officially arrived!  Nothing is more frustrating then trying to finish out a work week in addition to prepping Thanksgiving Dinner for an entire family!  Sometimes its hard to focus on what the priorities are because there are just so many to accomplish! Here are a few simple steps to ensure you have everything necessary for creating an effective, wonderful, Thanksgiving Dinner!:
Create your menu a week in advance so you know exactly what you will be having and for what course
Follow up on the guest list so you know exactly who and how many you will be cooking for
Plan on a dinner time so that you can efficiently space everything out as well as make things in a timely manner
Write down everything you need to make your grocery shopping a breeze!
Make sure you have enough place settings and plateware at the table to accommodate everyone
Lastly, have an enjoyable dinner with your family & friends!
Everyone always comes hungry, so here are a few quick and easy appetizer recipes to hold your guests over!
Pumpkin Dip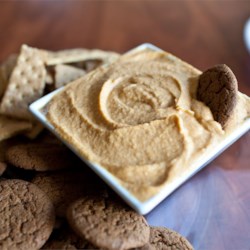 Ingredients:
1 (8 ounce) package cream cheese, softened
2 cups confectioners' sugar
1 (15 ounce) cansolid pack pumpkin
1 table spoon ground cinnamon
1 table spoon pumpkin pie spice
1 teaspoon frozen orange juice concentrate
Directions
In a medium bowl, blend cream cheese and confectioners' sugar until smooth. Gradually mix in the pumpkin. Stir in the cinnamon, pumpkin pie spice, and orange juice until smooth and well blended. Chill until serving.
Can be served with crackers or cookies
 Ginger Squash Soup with Parmessan  Croutons
Ingredients:
2 3/4 pounds orange-flesh winter squash, such as butternut
2 tablespoons olive oil
1 medium leek, trimmed, white and green parts, cut into 1/4-inch pieces (1 cup)
 3 cloves garlic, peeled and minced
1 teaspoon finely grated fresh ginger, or more to taste
1 medium parsnip, (4 ounces), peeled and cut into 1/4-inch pieces
1 teaspoon salt, plus more to taste
1/4 teaspoon freshly ground black pepper, plus more to taste
4 cups Homemade Chicken Stock, or canned low-sodium chicken broth, skimmed of fat
2 three-quarter-inch slices whole-wheat bread, crusts removed
3 tablespoons freshly grated Parmesan cheese
Directions:
Cut squash in half lengthwise. Remove the seeds and fiber, and peel. Cut into 1/2-inch pieces, and set aside.
Heat olive oil in a large stockpot over medium-low heat. Cook leek and garlic until softened, 3 to 5 minutes. Add ginger, squash, and parsnips. Stir, and cook over medium heat, 3 to 5 minutes. Add salt, pepper, and stock. Cover, and bring to a boil. Reduce to a simmer, and cook until the squash and parsnips are tender, 12 to 15 minutes. Transfer half the mixture to a food processor, and puree. Return to the stockpot until warm throughout. Adjust the seasoning to taste with salt and pepper.
Meanwhile, cut the bread into 1/2-inch cubes. Toast under the broiler until golden brown. Sprinkle with Parmesan, and return to the broiler, until the cheese begins to melt. Serve the soup in individual bowls with the toasted-cheese croutons on top.
Blue Cheese & Pear Tartlets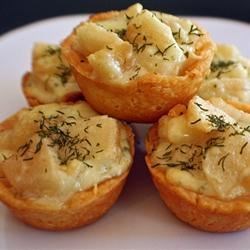 Ingredients:
4 ounces blue cheese, crumbled
1 ripe pear – peeled, cored, and chopped
2 table spoons light cream
ground black pepper to taste
1 (2.1 ounce) package mini phyllo tart shells
Directions:
Prebake phyllo shells according to package directions. Set aside to cool.
Mix together blue cheese, pear, and cream. Season to taste with pepper. Spoon mixture into cooled shells.
Bake at 350 degrees F (175 degrees C) for 15 minutes. Serve warm.